Normally you don´t let a 5 year old make too many decisions for the home. You really can't rely on them to decide what car to buy, what TV to buy, or what airline to use for your vacation trip. However, one day I asked her to name her 5 favorite Buenos Aires restaurants and her list was quite impressive.
I decide to share some of them with you. They are in no particular order because when you ask a 5 year old to rate them, the rating changes by the minute. However, if I put them all in one post it would make for a very long post. I will make this a current, up to the visit series taking pictures of the dishes as we go visit the restaurants. This past weekend it was
Albamonte´s
turn at bat.
Av. Corrientes 6735
Chacarita
4553-2400
4554-4486
You wont find too many foreigners here. The wine list is very short, they have cheesy plastic plants for decoration and it looks a bit old. However, it is a local classic and the food is great so who cares about the other stuff.
We start out with pizza as an appetizer. As you can see from the picture, this is thin styled pizza. The girls then have their plain pasta, dressed with a little olive oil that they bring to the table and sprinkled with Parmesan cheese. How on earth can a 5 year old discern between having pasta at this place versus any other? Well she does. Believe it or not you can mess up pasta. If she doesn't like the combination of olive oil, grated cheese and pasta then the restaurant will not get into her short list.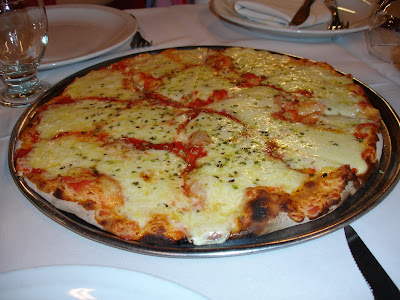 We then have one of my favorite dishes in all of Argentina Pollo a la Gasparini. This is a braised chicken with white wine, garlic and rosemary. Throw in some hand cut french fries and you have heaven on a plate. I love soaking the fries in the white wine mixture on the bottom of the pan. This one takes a while to make so we always call it in before we get there.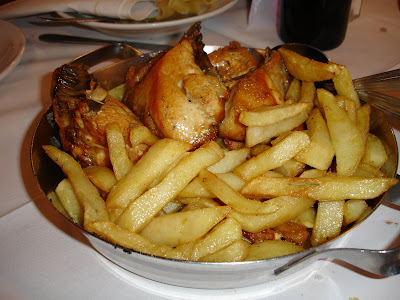 I am so picky about dessert that I often don´t order any. My daughters love chocolate ice cream and I do admit that it is hard to find bad ice cream here so once in a while I will have it as well, otherwise it´s a cortadito and the check.
There is usually a long line of people waiting for a table. We always get there at 8pm sharp and avoid the waiting. If you go any other time you can't say I did not warn you.
By the way, I found a recipe on
Epicurious
for this dish, you just need to replace rosemary for the thyme. In case you can't make it down here you can try making it at home.